Archlinux: https://aur.archlinux.org/packages/insync
Versrion: v3.7.7.50360
I have LUKS on a partition, could this be the reason?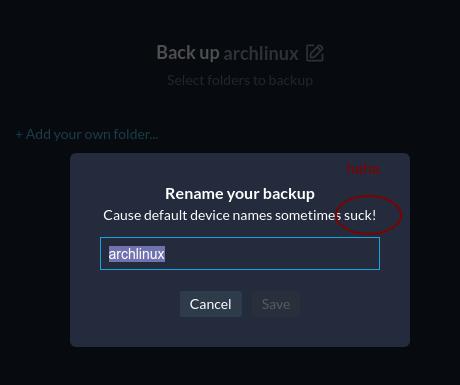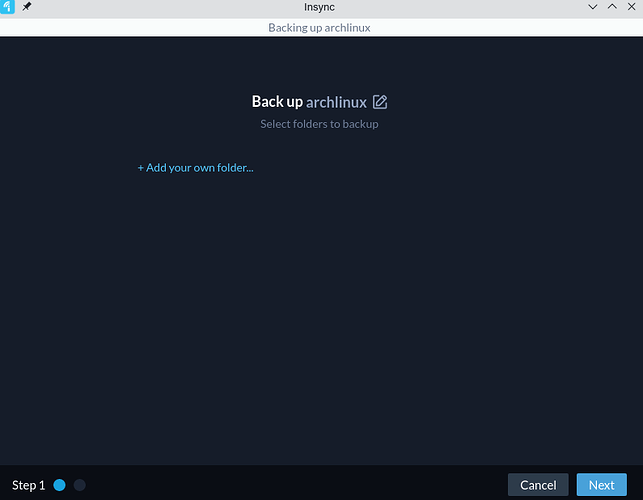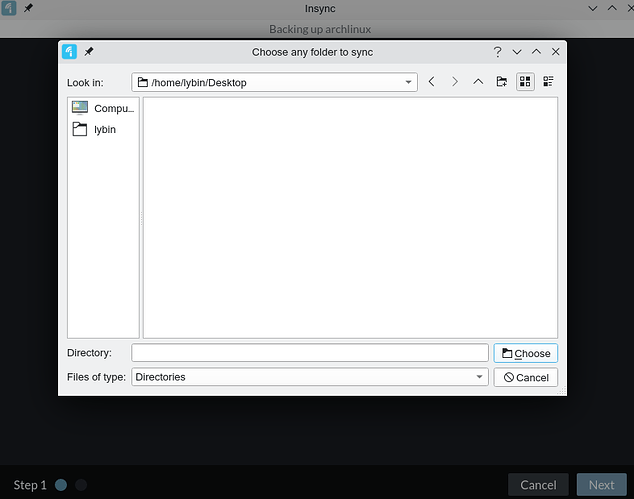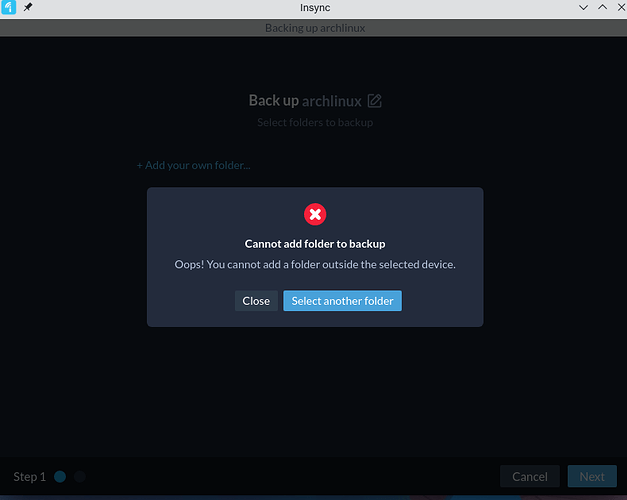 @llybin Thank you for reaching out. Yes, one of the discovered causes of this issue is due to encrypted partitions. This is a known limitation of the Backup feature; I have raised this to our Linux and Product Teams for future development.
Please let me know if you have any other questions or concerns and I would be happy to assist!
Thanks for answer.
I'm thinking about purchase, probably interested in backup. When backup will fixed, will I can to try it and upgrade licence from SYNC ONLY?
Yes, you can @llybin

I've still the same problem on elementary OS 6.1 (Ubuntu 20.04). I've a default installation without LUKS.
Hi @watching_cat! Yes, indeed there have been some discrepancies on the issue (including your case) not related to LUKS partition. Could you send the following to support@insynchq.com:
output of df -h
the exact path you tried to backup previously (during our email exchanges)
the link to this forums post (for easy reference)
I will collaborate with our engineers to see where this is currently at in our pipeline. I appreciate your
Done. But keep in mind that the screenshot above should already show local folders for selection, but is showing nothing. Also, you cannot add any folder - it just says that it's outside the device. So my guess is that it's getting confused as soon there's any kind of lvm/encryption etc. going on.
Hi @mia, anything new on this topic?

Hey @watching_cat! I'll consult with our engineers where this is currently at in their pipeline so I can give you (and other users) a better idea.
Thank you for your patience!
I try to test on Backup trial. I still have this issue now.
I use Fedora 37 and Insync 3.8.4.50481. I'm sure that the partition is not encrypted but it seems a LVM partition.
If it's true, how could I backup the folders via Insync Backup?
Hi Mia,
I've sent my 'df -h' to Insync Support. It should be a issue for LVM partition.
Maybe I just need Solo Sync to manage my data between local and cloud in Linux.
I will replace my ssd drive of my laptop next week.
Hi! 9 months have passed since the report of this issue and it seems like no progress has
been made.
I purchased an
Insync Personal Lifetime License yesterday and the backup feature of Insync is essential for me.
My computer runs on Ubuntu 22.10 Kinetic Kudu. I also use LVM with LUKS encryption on my disk.
Is there any workaround to get around this issue? Has anyone managed to solve this problem on their own?
Hi @manarinian
Sorry for the inconvenience. We are currently investigating this issue and will push out a fix soon
Hi Kurt, the inconvenience is still there. Are you actually investigating anything? As a paying user I feel that I am not getting the full attention that I and many other users deserve …