With the release of Insync 1.4 and our capability to sync Team Drives comes a new Teams license.
Here are some commonly asked questions about our new license:
Difference between Prime vs. Teams.
Our Prime license will allow you to sync your individual Google Drive with your computer. Our Teams license will have access to Team Drives syncing + other Teams-only features that will be made available in future updates.
Pricing
A Teams license costs a one-time payment of $49.99 per Google account. This includes lifetime support + access to future core updates of Insync.
You can purchase multiple licenses and avail of a volume discount by accessing your dashboard.
Upgrading from Prime to Teams
Simply pay the $20 difference between Prime and Teams to upgrade. You can upgrade your account by accessing your dashboard.
Upgrading from Plus, Pro or Business to Teams
All Plus, Pro and Business accounts can upgrade to Teams with a 30% discount at $34.99 one-time! Say goodbye to yearly subscriptions.

You can check what license you have by either accessing the Account Settings in the Insync app or your dashboard.
What if I'm on Pro or Business and I don't want to buy a Teams plan?
You can keep your Pro or Business account. You will have access to Team Drives syncing but you will still retain your yearly subscription.
Difference between Plus, Pro, Business, Prime and Teams
While Pro, Business and Teams all get Team Drives syncing + the Teams-only features in the future, there are some differences when it comes to pricing and license transferability. Here's a table for comparison.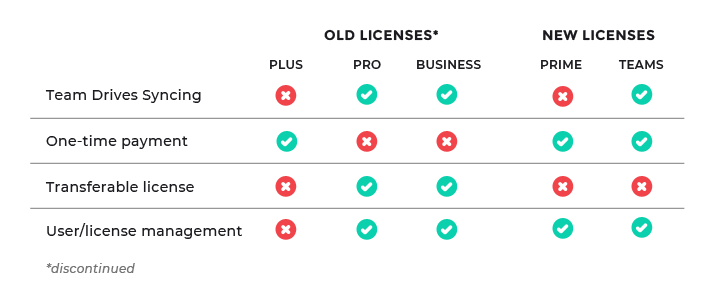 Can I still purchase Plus, Pro or Business?
No. The old subscription-based licenses were deprecated on December 2016. Those who are still on Pro or Business plans have been grandfathered.
New users can only choose between Prime or Teams.
I'm on Prime right now. Should I get Teams?
If your work requires access to Team Drives, then we recommended you upgrade.
I tried Prime before but my trial expired already. How can I try Teams?
You can start a Teams trial from your dashboard. Alternatively, you can contact us at support@insynchq.com so we can give you a Teams 15-day free trial.